The boat is made of African and Brazilian "mulberry" wood. It is the first boat of this size, made by hand, in Tenerife.
Set sail from the port of Los Gigantes and go in search of the whales and dolphins that inhabit the coasts of Tenerife.

After having photographed these amazing sea creatures you will sail near the cliffs of Masca and Los Gigantes. Reaching to a height of almost 600 metres, these cliffs are among the highest sea cliffs in Europe.

During the tour, all drinks are included: red wine, beer, soft drinks and water. It also includes an on-board guide who will explain everything in your own language.

On your journey you will be accompanied by an "Official whale observation guide". Do not forget your camera and swimsuit to take a swim!
Departures:
Puerto de Los Gigantes.
Maximum capacity:
91 passengers
Departures times:
3 Hrs. Departure 11:30 hrs. Every day.
2 Hrs. Departure 14:30 hrs. Wednesdays, Fridays, Saturdays and Sundays.
Note:
- Compliance with all anti-COVID-19 regulations. It is mandatory for all clients to wear their mask on the bus.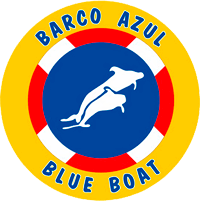 Certifications: Blue Flag.
This Boat has a Blue Flag. The observation of cetaceans is currently a tourist activity of exceptional importance and generally represents, for most of the people who undergo this experience, their first contact with marine mammals. In the Canary Islands, the observation of cetaceans for tourist purposes is regulated in Decree 178/2000, of September 6th.
Free cancellation up to 24 hours before the excursion. If you cancel within 24 hours of the excursion, there will not be a refund.
Adults

Children
(2 - 12)
Infants
(0 - 1)

3 Hrs with Bus from the South area